Weekly HUSD COVID Update 11/18/20: COVID Data: Most up to date San Bernardino County COVID data is as follows: Adjusted new cases per 100,000 residents: 24.41* Overall testing positivity: 10.41%* HPI testing positivity aka "Health Equity Metric": 12.62% * *Note: Most recent data as of 11/9/20 Source: San Bernardino County Department of Public Health Current San Bernardino County tier assignment: 27.0 adjusted new cases per 100,000** 10.5% Overall positivity** 9.3% Health equity metric positivity** Tier = Purple **Note: 7-day average of the week ending on 11/10/20. Source: Ca Safer Economy Needed for next tier (Red) assignment: 2 consecutive week averages of 7 or fewer adjusted new San Bernardino County cases per 100,000 residents, 8% or lower overall positivity rate AND 8% or lower Ca Health Equity Metric positivity. Source: Ca Safer Economy Free COVID Testing: Community COVID-19 testing sites are being held throughout San Bernardino County. Samples will be collected using a swab in the nostril or in the mouth. These samples are then sent to a lab to test for the virus that causes COVID-19 (SARS‑CoV‑2 virus). There are 3 commonly used testing options: Option #1: San Bernardino County Public Health Testing Facilities: Click the link to make a free testing appointment:
https://sb.fulgentgenetics.com/appointment/screen/landing
You can easily make an appointment on your computer or phone! Walk-ins are also welcome! You do NOT need to have symptoms to test! You get texted/emailed the results in under 48 hours! Nearby locations: (Note: Click Here for exhaustive San Bernardino County list) Percy Bakker Center 9333 E Ave., Hesperia Monday – Friday from 9:30 a.m. – 5 p.m. Victor Valley College 71 Mojave Fish Hatchery Rd., Victorville Monday – Friday from 9:30 a.m. – 5 p.m. Every Saturday through November 21 from 9:30 a.m. – 5 p.m. Option #2: CVS Testing Facilities: You can easily make an appointment on your computer or phone! No walk-ins! Generally, you MUST have symptoms to test! Click the link to schedule a CVS test:
https://www.cvs.com/minuteclinic/covid-19-testing?icid=cvs-home-hero1-banner2-coronavirus-testing
Option #3: Consult your doctor for other testing options. Flu Vaccine: The California Department of Public Health strongly recommends that all students and staff be immunized each autumn against influenza, to help: Protect the school community Reduce demands on health care facilities Decrease illnesses that cannot be readily distinguished from COVID19 and would therefore trigger extensive measures from the school and public health authorities. Click the link for information on free flu vaccines in San Bernardino County:
https://wp.sbcounty.gov/dph/flu/fluclinics/
If you have any other questions please contact your child's school.
You should of all received a call from our Superintendent, Mr. Olney. If you did not or missed the call, please visit Hesperia Unified School District website to read the message in full. This messages is in regards to the district's decision not to move forward with hybrid learning due to the recent increase of Covid-19 cases in our area. We will continue to prepare for hybrid learning in the future, hopefully after our winter break. Families that registered for hybrid learning, will be notified of their group assignment when we return from Thanksgiving break. If you have any questions, please call the schools front office at (760)244-6133, we would enjoy speaking with you.



Congratulations to our Students of the Week for the week of October 5th-9th!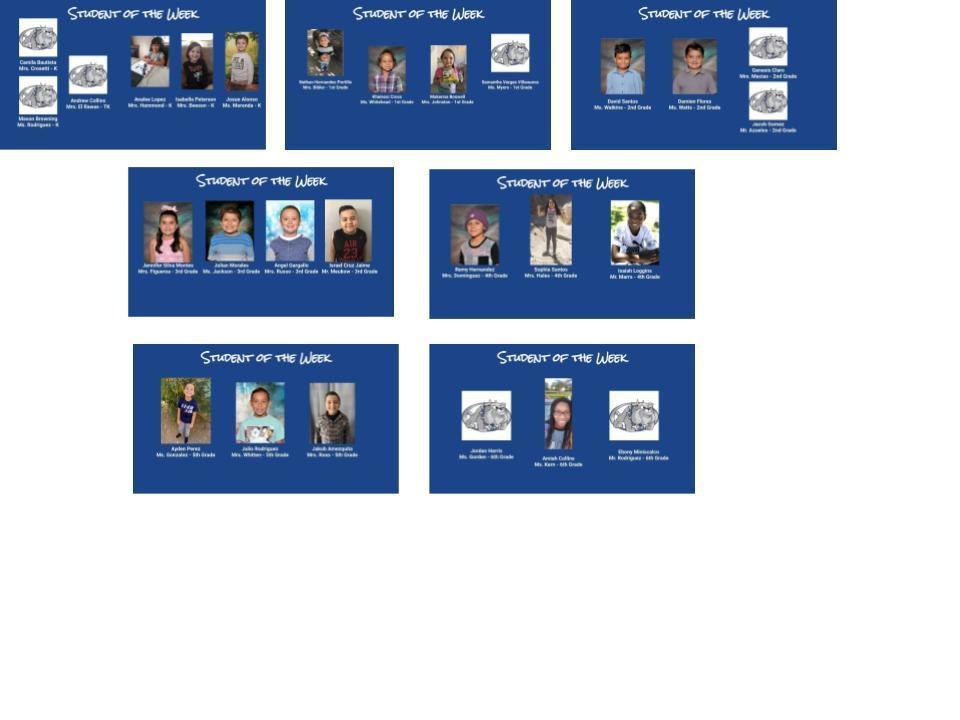 Good morning Bulldog families. Update to our grab and go meals. The bus will be in our parking lot from 7:30-7:50am. Please come between that time Monday-Thursday. The bus will leave at 7:50. Thank you.

Good Evening Joshua Circle Families. Tonight is Virtual Back to School night! Woohoo. Please head to the Joshua Circle Website where you will see "Virtual back to school night 2020" on the home page. Click on that link to get the evening started. This can be accessed from your students chromebooks as well. Make sure to check your grade level to see if there is a sign up for parent teacher conferences. Not all teachers are using this method for sign ups. So do not worry if you do not see a link for a specific teacher. Hope you enjoy! Link for the school website:
https://www.joshuacircleelementary.org/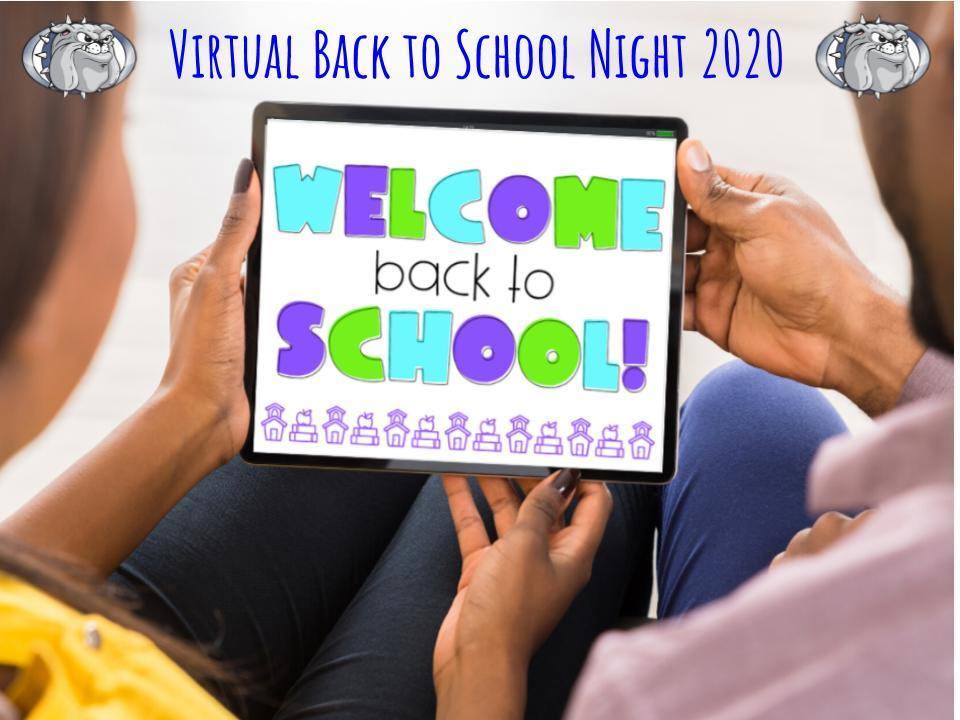 Our Nutrition Services Department still needs your input on meal service. Please fill out the brief survey here:
https://bit.ly/3ko9WRk


Hi bulldogs! Please stay informed about the student lunches being handed out at the different sites. Not all sites are pick up sites. Remember you will need to provide your students lunch number. This is only for enrolled HUSD students. Thank you.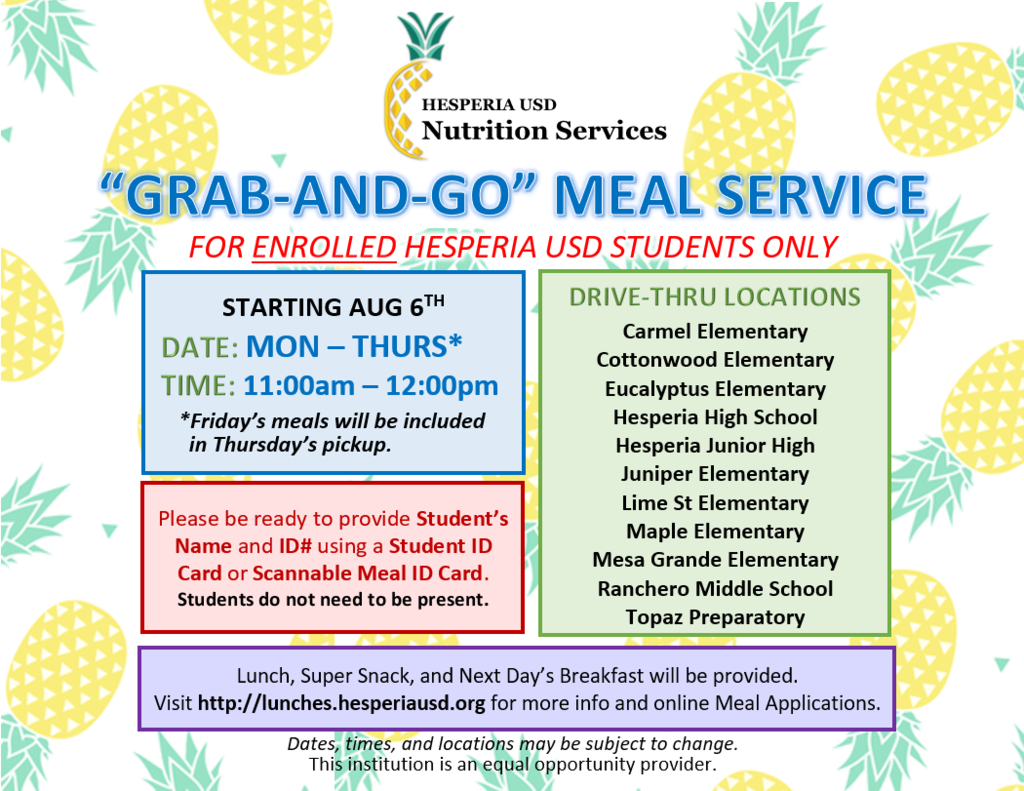 Hey Bulldog Families, check out this amazing event on July 30th!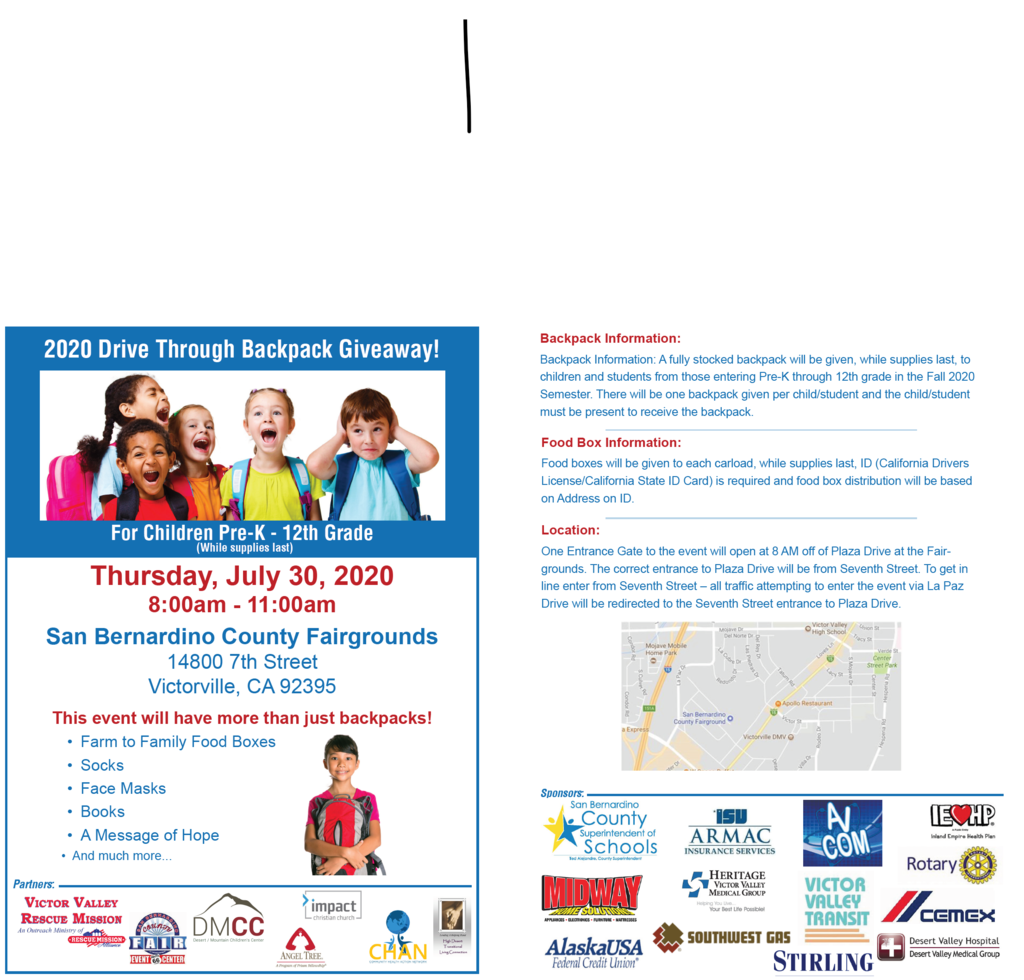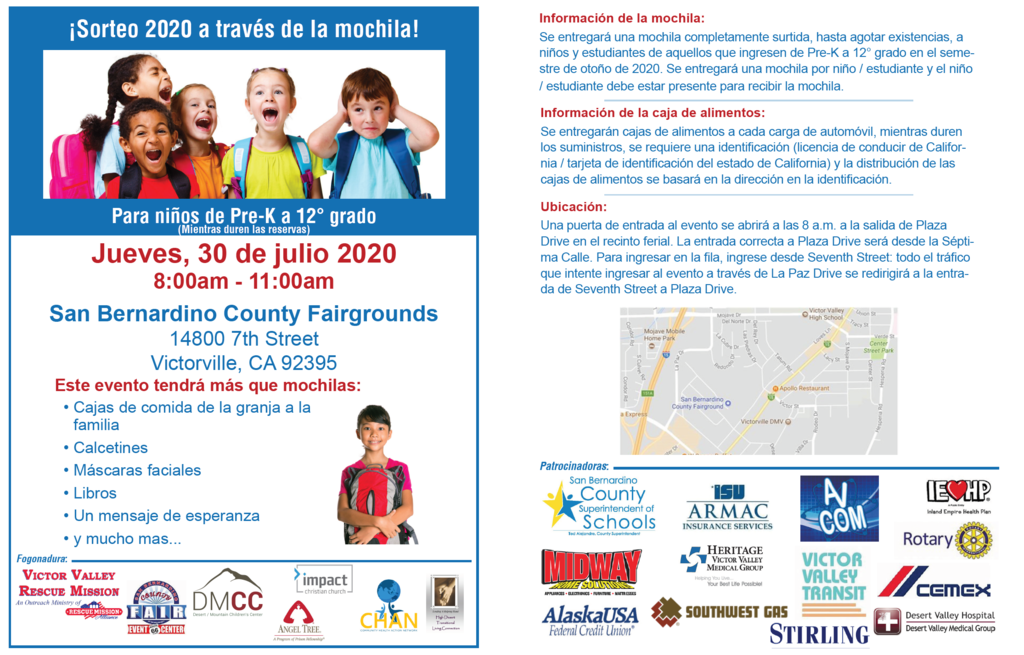 Joshua Circle office will be closed for the summer starting June 16, 2020. The office will reopen for phone calls on July 20, 2020 at 9:00. Sorry for the inconvenience and thank you for understanding. Please continue to check our website and follow us on facebook for school updates.

Free Summer Meals All Children Ages 1-18 June 1-25, 2020 Monday - Thursday 11:00-12:00 Sultana High Hesperia High Cedar Middle Joshua Circle Elementary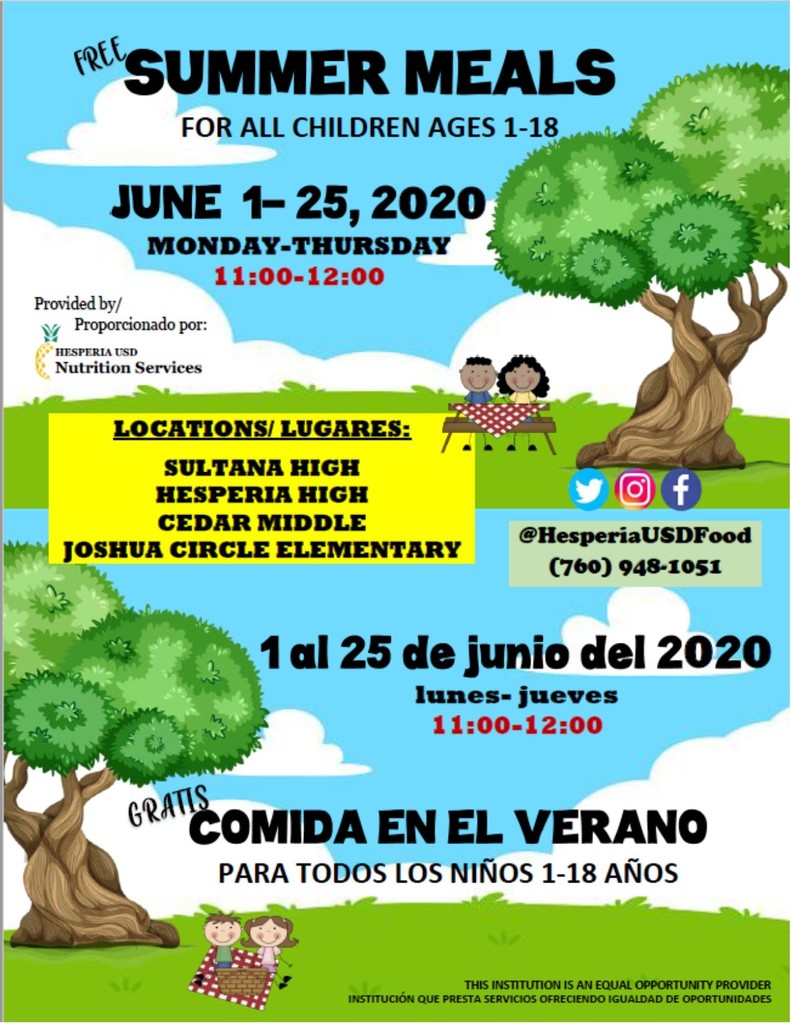 On Thursday, May 28th/9:00-11:00 we will be having our library book turn in. Library book that are checked out from our school library, need to be placed in the provided containers located in the front of the school. If you have a book in your class, your teacher will turn in.

Attention JC Band students and families, please take a look at the information regarding instrument return.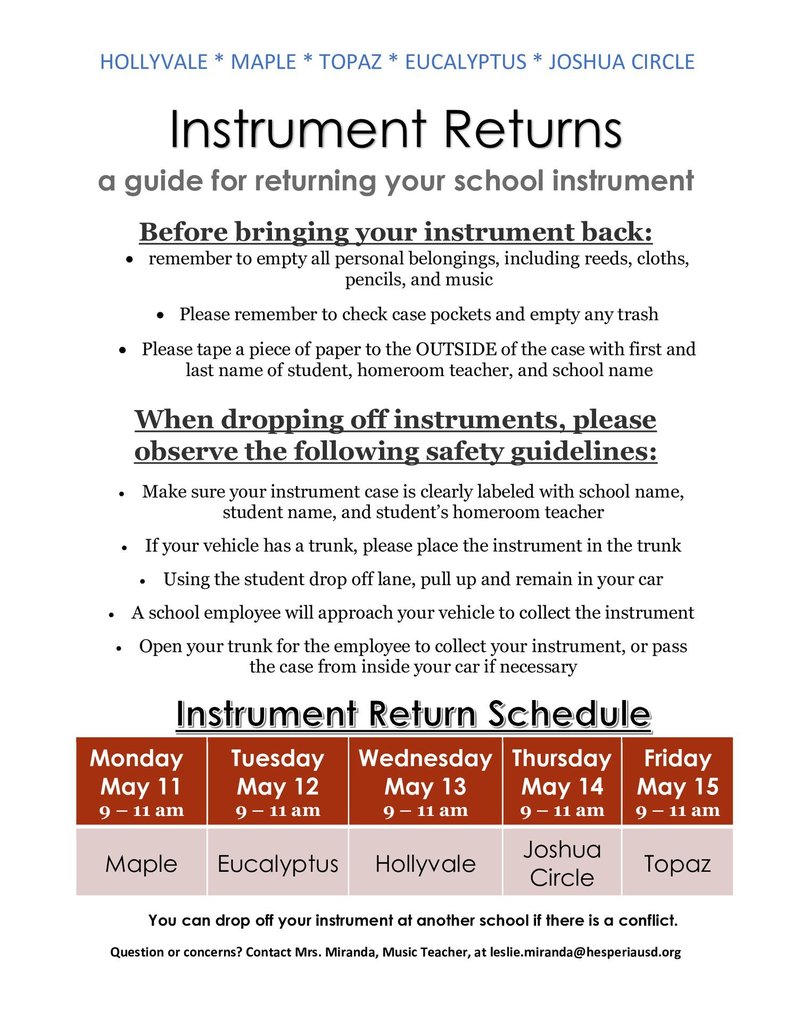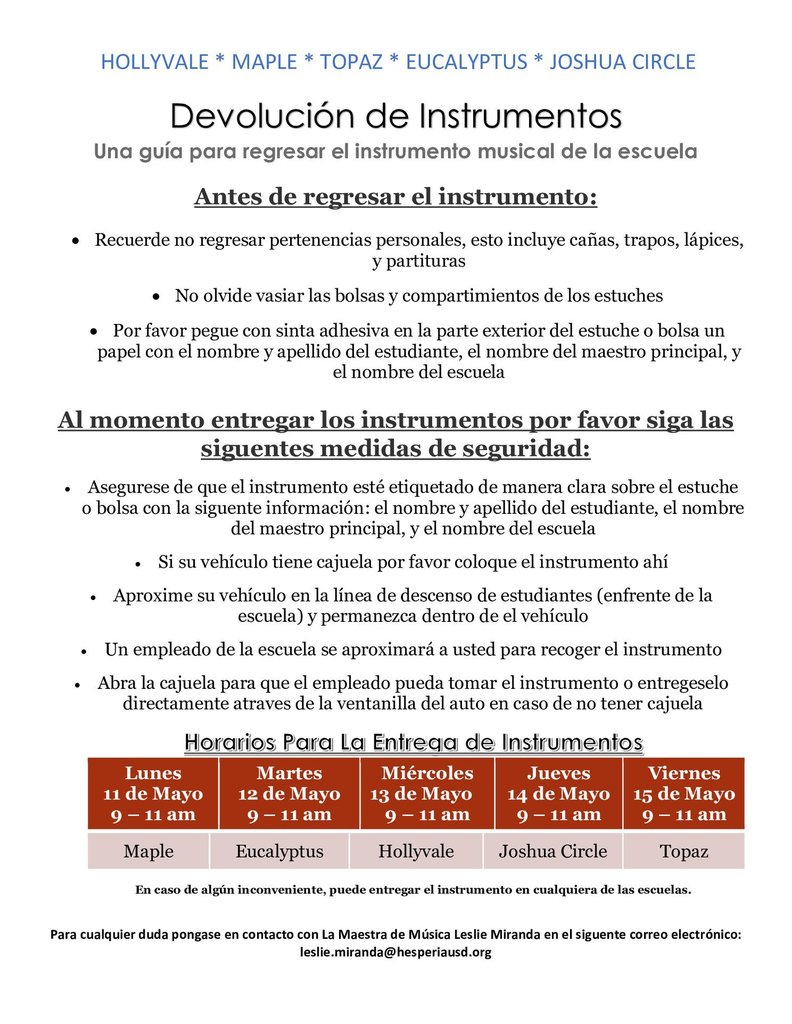 Good morning JC families. Due to the new orders issued by San Bernardino County, the JC office will be closed until further notice. Please direct questions to your child's teacher. You can still call the office between 9-11 am, Monday - Friday and leave a message. Messages will be checked frequently and calls will be returned as soon as possible. Thank you for your continued support during this difficult times. You can find additional information here:
https://docs.google.com/document/d/1IwK85GYtuswCywMRwDcDMtHpE3G6BjnkntEG_w8Cblw/edit
.


Chromebook pick up for Joshua Circle students will be Thursday, April 2nd and Friday, April 3rd. Please have your child's first and last names and teacher's name displayed in your window. Enter the parking lot off of 8th Avenue and follow the signs. Please remain in your vehicle. The schedule is as follows: Thursday, April 2nd Kindergarten & 1st grade: 8:00-9:30 2nd grade: 10:00-11:30 3rd grade: 12:30-2:00 Friday, April 3rd 4th grade: 8:30-10:00 5th grade: 10:30-12:00 6th grade: 1:00-2:30 If you have any questions, please call the office between 9:00-11:00, Monday-Friday.