Live Feed
Free Summer Meals
All Children Ages 1-18
June 1-25, 2020
Monday - Thursday 11:00-12:00
Sultana High
Hesperia High
Cedar Middle
Joshua Circle Elementary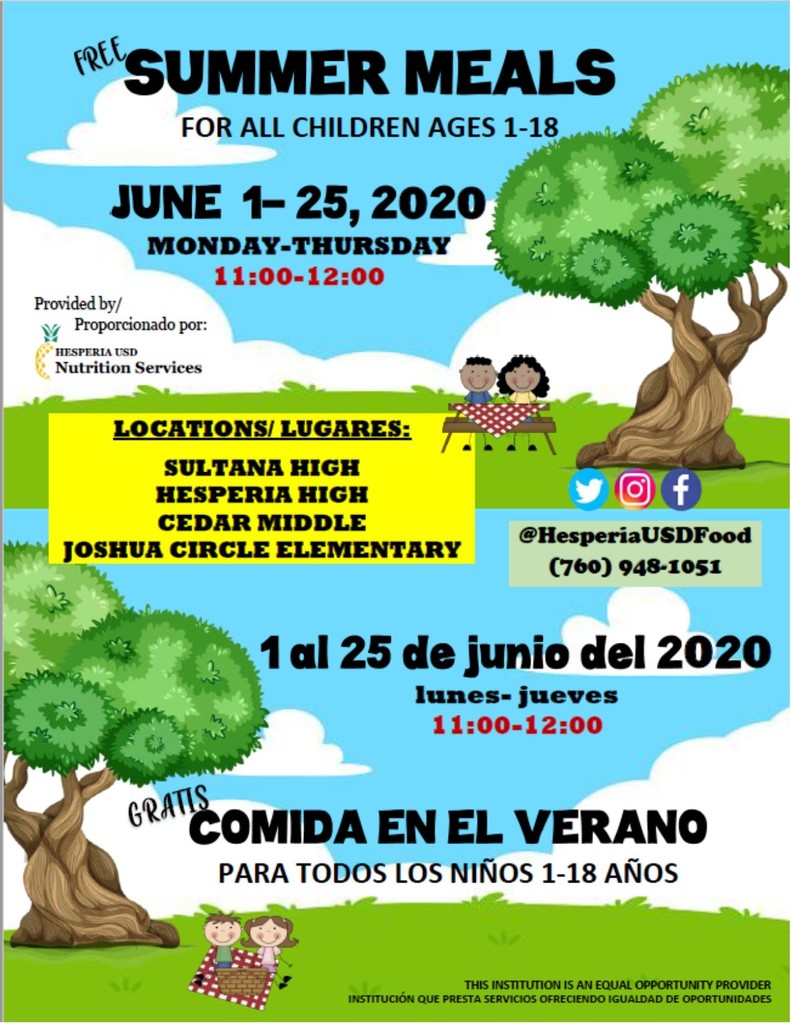 Joshua Circle Elementary
10 days ago
On Thursday, May 28th/9:00-11:00 we will be having our library book turn in. Library book that are checked out from our school library, need to be placed in the provided containers located in the front of the school. If you have a book in your class, your teacher will turn in.
Joshua Circle Elementary
10 days ago
Attention JC Band students and families, please take a look at the information regarding instrument return.
Joshua Circle Elementary
22 days ago
Good morning JC Families! Please take a moment to provide us with some feedback using this quick survey. We appreciate your support.
https://forms.gle/AUQRKF1qGS1E5i5E9
Joshua Circle Elementary
about 1 month ago
Any new students wishing to enroll at Joshua Circle Elementary may call the school at (760) 244-6133 and/or email registration staff at JoshuaCircleRegistration@hesperiausd.org
Hesperia Unified
about 1 month ago
View All Posts »
Title 1Academic Achievement award
VEXRobotics
LegoRobotics
PBISSilver School